Shears (or Micro-Shear® Flush Cutters)
ES5541-XBow Tapered & Relieved Head Flush Cutter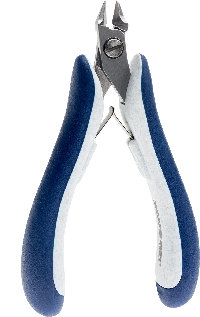 Designed and manufactured in Switzerland,these precision cutters meet the demanding needs of jewlery manufacturers, bench jewelers and creative professionals.

Slim Ergonomic hand grips * Smooth,non-glare satin finish * Stainless Steel dual leaf return spring * Lap joing with screw for strength and perfect blade alignment * Rockwell Hardness 63 Rc

Cutter Head Shape: Tapered & Relieved
Cutter Head Size: Small
Type of Cut: Flush
Cutting Capacity: 17 AWG / 1.15 mm

NOTE: This item has been discontinued. Stock will be available until our inventory is depleted.
Type of Tool:

Project type:

Wire Weaving
Jewelry Manufacturing
Chainmaille
Bead Stringing

Special Features:

Wire size:

30
29
28
27
26
25
24
23
22
21
20
19
18
17

Material(s):

Wire
Silver Wire
Gold Wire
Copper Wire
Bead Wire
Remember that you can use our Rover Tool Finder to search for products by different criteria!