Shears (or Micro-Shear® Flush Cutters)
2193 -Hard Wire and Memory Wire Cutter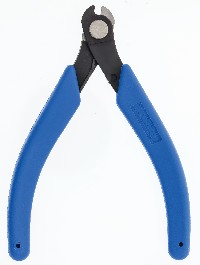 Designed for cutting memory wire and other types of hard wire. Also, a great tool for cutting push rods, throttle cable and carbon fiber rods and nichrome wire.

Cutting effort is minimal due to the tools' full by-pass shearig action. Rated for cutting hard wire up to 0.040" diameter.


Type of Tool:

Project type:

Model Railroading
Jewelry Manufacturing
General Hobbies And Crafts
Electronics
Bead Stringing

Special Features:

Wire size:

30
29
28
27
26
25
24
23
22
21
20
19
18

Material(s):

Wire
Stainless Steel Wire
Spring Wire
Silver Wire
Radio Control Throttle Cable
Picture Framing Wire
Piano Wire
Nichrome Wire
Music Wire
Memory Wire
Gold Wire
Floral Wire
Bicycle Cable
Annealed Wire
Carbon Fiber Tube
Carbon Fiber Rod
Remember that you can use our Rover Tool Finder to search for products by different criteria!