JEWELRY MAKING HAND TOOLS - SIX PRECISION TYPES FOR SPECIFIC TASKS
May 11, 2021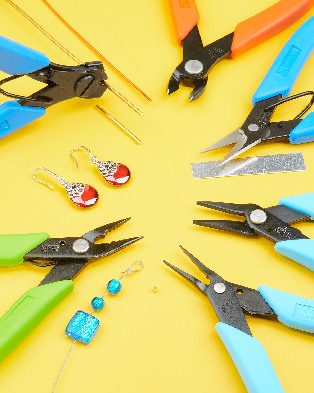 XURON® TOOLS FOR JEWELRY MAKING AND REPAIR
Specialty tools for jewelry making and repair involving the cutting of soft and hard wire, cutting sheets of soft metals, crimping and forming, and handling small parts have been introduced by Xuron Corp. of Saco, Maine.
Xuron® Precision Jewelry Making Hand Tools include the Model 2193F Hard Wire Cutter with Retaining Clamps for leaving a square cut on both ends; the 2175 Maxi-Shear™ Flush Cutter for soft wire up to 12 gauge; and the 9180NS Metal Shear for sheets of soft metals and lead up to 20 gauge. For holding, handling, and forming, tools include the Model 494 Four-in-One Crimping Pliers that crimp and fold, 1, 2, and 3 mm crimp tubes; the 485FN Flat Nose Pliers with flat smooth blades for forming-bending soft materials; and the 450 TweezerNose™ Pliers for handling small findings and parts.
Comfortable to hold in either hand, Xuron® Precision Jewelry Making Hand Tools are made from alloyed steel and hardened and feature return springs and soft rubber hand grips. These tools have no cumbersome finger loops.
Xuron® Precision Jewelry Making Hand Tools are made in the U.S.A. and available through authorized retailers