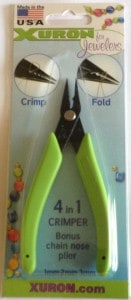 Introducing the newest addition to the Xuron® line of tools for jewelers —  an innovative and multi-functional plier that can crimp & fold 1, 2 and 3 mm crimp tubes and incorporates a chainnose plier for handling small beads, crimps and findings as well as bending and forming wire.
Easy to use:
Position crimp tube in "crimping" station and squeeze – for the most secure result, be sure the two wires are on either side of the tube so that the crimping "tooth" can be set between them.  

 Rotate the crimp 90 degrees and place in the appropriate (1, 2 or 3 mm)  "folding" station and lightly squeeze
Chainnose Plier can be used to pick up crimps, finding and small beads — this is my favorite feature!
Complete instructions (with line diagrams) can be found on xuron.com and we will have a demonstration video available soon.
If you'll be at the Bead & Button Show please come see us in booth # 745 — you'll be able to try the crimper for yourself!