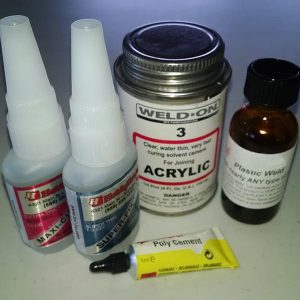 Our last post on glues, cements, and solvents for plastic model building promised a part two – tips to help you know which adhesive is best for your particular project, as well as useful tools for precision placement of your adhesive.
First, let's talk about the pros and cons of each adhesive …
Tube Glue or Model Cement is a gel-like substance that contains a chemical, such as Toluene, that when applied to the joining surfaces of a plastic model forms a membrane that bonds the two surfaces together. A tube of model cement is inexpensive and can be purchased at most hobby, craft and hardware stores. It's also available in a non-toxic, odorless version. But, model cement can be stringy and messy if proper technique isn't used. It yellows with age. It also crystallizes and loses its adhesion properties over time.