Every electronics assembler, engineer, repair technician, and home hobbyist has a pair of pliers in his or her toolbox.  There are as many different pliers types and styles available as there are applications for them.
Choose the Right Pliers for Electronics and Wire Work:
Traditional Pliers
Xuron® Model 450 TweezerNose™ Pliers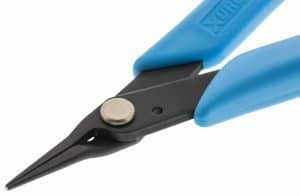 Fine electronics work requires pliers with thin, precise blades for holding and placement of delicate components. Xuron Corporation's model 450 TweezerNose™ is a perfect choice for this type of work. The blades are designed to meet at the tip and close progressively as pressure is applied to the handles. This allows for 'tweezer-like' manipulation and secure hold when working in small spaces.
---
Xuron® Model 485 Chain Nose Pliers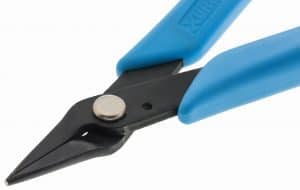 Maintenance and repair technicians need pliers for pulling, bending and forming wire.  A chain nose, like our model 485, is ideal for this purpose due to its wide, flat blades that provide extra surface area for gripping.
Learn more about the Model 485 Chain Nose Pliers here.
---
Xuron® Model 475 Short Nose Pliers

Short Nose Pliers, like our Model 475, offer the benefit of being close to your work and the shorter blades are best for crimping, pulling, bending and forming.
---
Specialty Pliers
Xuron® Model 496 Split Ring Pliers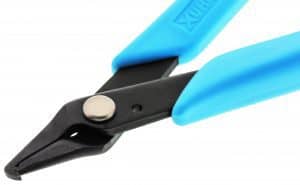 Other pliers are designed for specific tasks. Our model 496 Split Ring Pliers provide an easy solution for opening split rings (used to fasten objects together) and it will eliminate broken fingernails! Hint: these are very handy to keep in a tackle box for changing fishing lures.
---
Xuron® Model 485C Combination Cutter and Chain Nose Pliers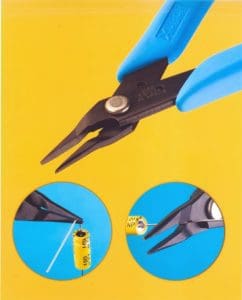 Offering the benefit of both a cutter and pliers, the models 475C and 485C Combination Pliers are useful for technicians and/or hobbyists who frequently need both types of tools for a single task, thereby eliminating toolbox redundancy. All of the above (with the exception of the Model 496 Split Ring Pliers) are optionally available with serrated blades for extra gripping power.
The application will determine the tool choice, however, there are other factors to consider.  How does the tool feel in the hand? Is it well-balanced; does it have a return spring; is the grip comfortable?   Xuron® brand pliers deliver all of these benefits.