Shears (or Micro-Shear® Flush Cutters)
2175SH-Maxi-Shear­™ Flush Cutter - Short Handle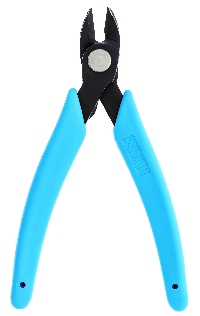 A short handle version of our Model 2175 Maxi-Shear™ Flush Cutter, Model 2175SH provides a more comfortable alternative for those with smaller hands.

Flush cuts soft wire up to 12 AWG (2mm). An excellent choice for chainmaille and wire art enthusiasts.

Soft Xuro-Rubber® handle grips and Light-Touch® Return spring lend comfort and control.


Type of Tool:

Project type:

Wire Weaving
Jewelry Manufacturing
General Hobbies And Crafts
Chainmaille
Bead Stringing

Special Features:

Wire size:

30
29
28
27
26
25
24
23
22
21
20
19
18
17
16
15
14
13
12

Material(s):

Wire
Silver Wire
Picture Framing Wire
Flexible Stranded Bead
Craft Wire
Copper Wire
Bead Wire
Annealed Wire
Monofilament
Remember that you can use our Rover Tool Finder to search for products by different criteria!