Shears (or Micro-Shear® Flush Cutters)
2193F -Hard Wire Cutter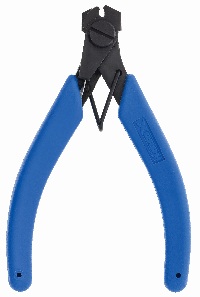 Similar to our model 2193 but with self-adjusting clamping fixtures, which hold the wire perpedicular to the jaws. Greatly simplifies the cutting process while allowing for flat cuts on both the cut and cut-off sides of the wire.

Can be used to cut memory wire, silver, gold and copper wire. Also good for cutting twisted throttle cable. Cuts music wire up to 0.064" diameter.
Type of Tool:

Project type:

Robotics
Model Railroading
Jewelry Manufacturing
General Hobbies And Crafts
Electronics
Bead Stringing

Special Features:

Wire size:

30
29
28
27
26
25
24
23
22
21
20
19
18
17
16
15
14

Material(s):

Wire
Stainless Steel Wire
Spring Wire
Silver Wire
Radio Control Throttle Cable
Picture Framing Wire
Piano Wire
Nichrome Wire
Music Wire
Memory Wire
Gold Wire
Floral Wire
Craft Wire
Copper Wire
Bicycle Cable
Bead Wire
Annealed Wire
Carbon Fiber Tube
Carbon Fiber Rod
Remember that you can use our Rover Tool Finder to search for products by different criteria!