Shears (or Micro-Shear® Flush Cutters)
410A-Micro-Shear® Ultra Flush Cutter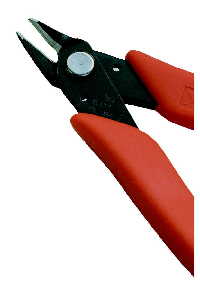 Use for cutting soft plastic and plastic sprue for a clean, near finished result eliminating the need post cut filing or sanding.

May also be used to cut soft wire up to 20 AWG (0.8mm).

Xuro-Rubber™ comfort grips and Light-Touch™ return spring ensure control and ease of use.
Type of Tool:

Project type:

Plastics De-Gating
Plastic Kit Modeling
Model Railroading
General Hobbies And Crafts
Electronics

Special Features:

Wire size:

Material(s):

Wire
Silver Wire
Plastic Sprue
Gold Wire
Electronic Lead Wire
Craft Wire
Copper Wire
Bead Wire
Remember that you can use our Rover Tool Finder to search for products by different criteria!