Shears (or Micro-Shear® Flush Cutters)
410 -Micro-Shear® Flush Cutter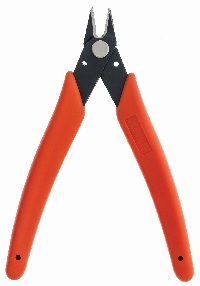 An excellent cutter for hobbies, crafts and bead stringing.

Rated for cutting soft wire up to 18 AWG (1mm), this tool is perfect for electronics wire, flexible stranded bead wire, craft wire as well German-style wire used for jewelry making.

Type of Tool:

Project type:

Wire Weaving
Robotics
Model Railroading
Jewelry Manufacturing
General Hobbies And Crafts
Electronics
Bead Stringing

Special Features:

Wire size:

30
29
28
27
26
25
24
23
22
21
20
19
18

Material(s):

Wire
Plastic (de-gating)
Gold Wire
Flexible Stranded Bead
Craft Wire
Copper Wire
Annealed Wire
Monofilament
Remember that you can use our Rover Tool Finder to search for products by different criteria!