Shears (or Micro-Shear® Flush Cutters)
420 -Angled Head Micro-Shear® Flush Cutter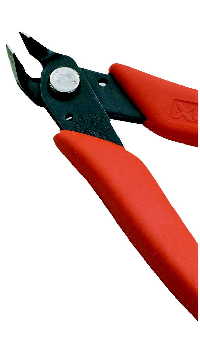 Allows easier cutting in small spaces. Angled cutter head provides excellent sight lines when used in either a vertical or horizontal postition.
Designed for cutting soft wire up to 20 AWG (.8mm). Also works well on flexible stranded bead wire and craft wire.
Type of Tool:

Project type:

Wire Weaving
Robotics
Plastic Kit Modeling
Model Railroading
Jewelry Manufacturing
General Hobbies And Crafts
Electronics
Bead Stringing

Special Features:

Wire size:

Material(s):

Wire
Silver Wire
Plastic Sprue
Plastic Cable Ties
Plastic (de-gating)
Gold Wire
Flexible Stranded Bead
Craft Wire
Copper Wire
Bead Wire
Monofilament
Remember that you can use our Rover Tool Finder to search for products by different criteria!