Shears (or Micro-Shear® Flush Cutters)
2175 -Maxi-Shear™ Flush Cutter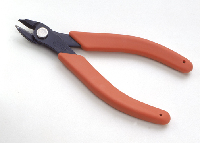 A strong, durable cutter that is ideal for wire crafts, basketry, caning and for cutting lead came used for stained glass work. Delivers clean flat cuts.
Type of Tool:

Project type:

Jewelry Manufacturing
General Hobbies And Crafts
Bead Stringing

Special Features:

Wire size:

30
29
28
27
26
25
24
23
22
21
20
19
18
17
16
15
14
13
12

Material(s):

Wire
Silver Wire
Plastic Sprue
Plastic Cable Ties
Plastic (de-gating)
Picture Framing Wire
Gold Wire
Floral Wire
Electrial Wire
Craft Wire
Copper Wire
Bead Wire
Annealed Wire
Monofilament
Remember that you can use our Rover Tool Finder to search for products by different criteria!