575 -Micro-Forming Plier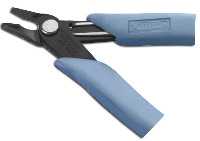 Unique forming blades shape wire and light gauge strips of brass and aluminum. Ideal for adjusting trip pins on N, HO and O sized couplers.

Ergonomically designed and featuring Xuron's Light-Touch™ return spring and non-slip Xuro-Rubber™ handle grips for comfort and control.
Type of Tool:

Project type:

Plastic Kit Modeling
Model Railroading
Jewelry Manufacturing
General Hobbies And Crafts

Special Features:

Wire size:

Material(s):
Remember that you can use our Rover Tool Finder to search for products by different criteria!