TK 4200-Metalsmith's Tool Kit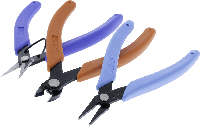 This kit contains a selection of three tools designed to meet the specific needs of metalsmiths; allowing them to comfortably cut, hold and manipulate wire and sheet metal.

The kit includes the following: 9180NS Metal Shears, 2175 Maxi-Shear™ Flush Cutters, and 485FN Flat Nose Pliers. Tools come packaged in a canvas tool roll to keep them clean and organized.

Traditional metal shears are bulky, heavy, have no return spring and are hard to operate. The 9180NS is smaller, light weight, and has a gentle return spring. The 9180NS is great for creating jump rings. The shearing action provides a double flush cut creating clean ring closures. Rated to cut up to a 20 gauge (0.8mm) non-ferrous sheet metal and 16 gauge (1.3mm) soft wire.

The 2175 Maxi-Shear™ has been a favorite of metalsmiths for years. Its oval cutting head and larger handle make it the perfect companion for those working with soft wires up to 12 gauge (2mm). Like all Xuron® cutters, the 2175 offers our Micro-Shear® blade bypass action, resulting in flat clean, flush cuts.

The flat smooth surface of the 485FN Flat Nose Pliers allows for greater gripping strength and durability. It is ideal for bending and manipulating wire without marring the surface. The 485FN Flat Nose Pliers are slightly narrower than others on the market, which makes them more versatile allowing you to work with a wide variety of material sizes.

Type of Tool:

Flat Nose Plier
Tool Kit
Shears
Cutter

Project type:

Jewelry Manufacturing
Chainmaille

Special Features:

Wire size:

30
29
28
27
26
25
24
23
22
21
20
19
18
17
16
15
14
13
12

Material(s):

Wire
Sheet Stock
Craft Wire
Copper Wire
Bead Wire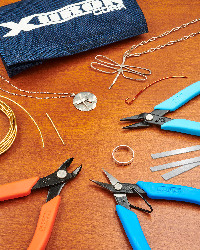 Remember that you can use our Rover Tool Finder to search for products by different criteria!