ES6013-XBow Long Flat Nose Pliers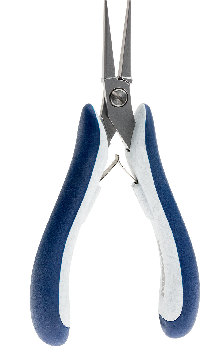 Designed and manufactured in Switzerland,these pliers meet the demanding needs of jewlery manufacturers, bench jewelers and creative professionals.

Slim Ergonomic hand grips * Smooth,non-glare satin finish * Stainless Steel dual leaf return spring * Lap joing with screw for strength and perfect blade alignment.

Long (30 mm), flat jaws provide maximum surface area for chainmaille work as well as forming and bending sheet metal and heavy gauges of wire.

Type of Tool:

Project type:

Jewelry Manufacturing
Chainmaille
Bead Stringing

Special Features:

Wire size:

Material(s):
Remember that you can use our Rover Tool Finder to search for products by different criteria!