451-90 Degree Bent TweezerNose™ Pliers

A precise TweezerNose™ Pliers with tips bent to 90 degrees for picking up small jump rings, delicate findings as well as other miniature components used for jewelry making, crafts and hobbies.

Designed with micro-maillers in mind, the 90 degree angle of the tips makes it easy to pick up a small jump ring and then transition to an open/close of the ring while keeping the wrist in a neutral position.

Soft rubber hand grips and a responsive return spring keep the pliers steady in the hand and add comfort during use.

Type of Tool:

Bent Nose Plier
Tweezer Nose Plier

Project type:

Bead Weaving
Wire Weaving
General Hobbies And Crafts
Chainmaille
Bead Stringing

Special Features:

Wire size:

Material(s):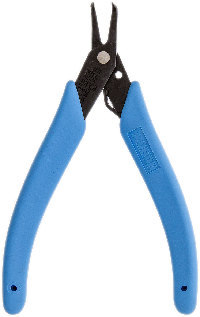 Remember that you can use our Rover Tool Finder to search for products by different criteria!