475 -Short Nose Plier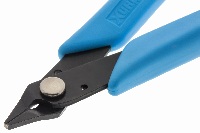 A perfect plier for chainmaille artists -- the short "nose" of the plier allows for excellent control when opening/closing jump rings.

Manufactured from heat treated, alloyed steel, these pliers are strong and durable.

Soft rubber hand grips provide comfort and the return spring always bring the tool back to the open position.



Type of Tool:

Project type:

Wire Weaving
General Hobbies And Crafts
Electronics
Chainmaille
Bead Weaving

Special Features:

Wire size:

Material(s):
Remember that you can use our Rover Tool Finder to search for products by different criteria!