8500RAS-Bio-Shear Flush Cutter - Right Hand Model with ESD Safe Hand Grips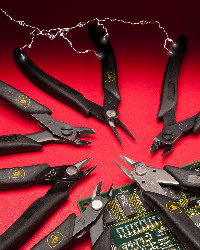 Bio-Shear flush cuttes incorporate the popular curved grip design with all the ergonomic features of our standard 170-II Micro-Shear® Flush Cutter.

Grip design keeps the knuckles of the operators hand in a straigter line and prevents the hand from completely closing, reducing the amount of effort expended while delaying fatigue.

Heat treated to 54-56 RC for lasting durability.

Comes in either right (Model 8500R) or left (8500L)handed configurations.
Type of Tool:

Anti-Static
Right Handed Shear
Cutter

Project type:

Special Features:

Wire size:

Material(s):

Wire
Electronic Lead Wire
Copper Wire

Remember that you can use our Rover Tool Finder to search for products by different criteria!