2175AS-Maxi-Shear™ Flush Cutter with ESD Safe Hand Grips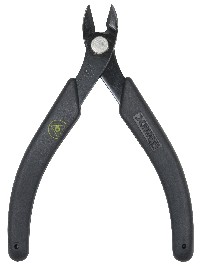 An extremely durable and versatile wire cutter featuring Xuron's patented Micro-Shear® Flush cutting action. Handles are sized and shaped for comfort and optimum leverage. Non-protruding, life time warranteed flat spring provides "feel" without excessive tension. Rated for cutting soft wire up to 12 AWG (2mm).
Type of Tool:

Project type:

Wire Harness Manufacturing
Telecommunications
Electronics
Electrical

Special Features:

Wire size:

30
29
28
27
26
25
24
23
22
21
20
19
18
17
16
15
14
13
12

Material(s):

Wire
Wire & Cable
Rubber Sealing (automotive)
Electronic Lead Wire
Electrial Wire
Cord Sets
Copper Wire
Annealed Wire

Remember that you can use our Rover Tool Finder to search for products by different criteria!