2193FAS-Hard Wire Cutter with ESD Safe Hand Grips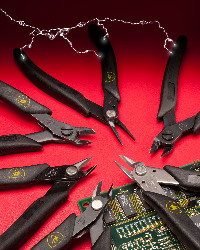 Similar to our model 2193 but with self-adjusting clamps that hold the wire perpendicular to the jaws. Greatly simplifies the cutting process while allowing for square cuts on both the cut and cut-off sides of the wire. Cuts music wire up to .060".
Type of Tool:

Anti-Static
Hard Wire Cutter
Cutter

Project type:

Wire Harness Manufacturing
Telecommunications
Electronics

Special Features:

Wire size:

30
29
28
27
26
25
24
23
22
21
20
19
18
17
16
15
14

Material(s):

Wire
Wire & Cable
Stainless Steel Wire
Spring Wire
Piano Wire
Nichrome Wire
Music Wire
Electrial Wire
Cord Sets
Copper Wire
Annealed Wire
Carbon Fiber Tube
Carbon Fiber Rod

Remember that you can use our Rover Tool Finder to search for products by different criteria!