2193FAS-Hard Wire Cutter with ESD Safe Hand Grips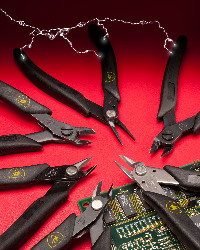 Similar to our model 2193 but with self-adjusting clamps that hold the wire perpendicular to the jaws. Greatly simplifies the cutting process while allowing for square cuts on both the cut and cut-off sides of the wire. Cuts music wire up to .0060".
Type of Tool:

Cutter
Hard Wire Cutter
Anti-Static

Project type:

Electronics
Telecommunications
Wire Harness Manufacturing

Special Features:

Wire size:

14
15
16
17
18
19
20
21
22
23
24
25
26
27
28
29
30

Material(s):

Carbon Fiber Rod
Carbon Fiber Tube
Annealed Wire
Copper Wire
Cord Sets
Electrial Wire
Music Wire
Nichrome Wire
Piano Wire
Spring Wire
Stainless Steel Wire
Wire & Cable
Wire

Remember that you can use our Rover Tool Finder to search for products by different criteria!