635AS-Shear Rise Cutter with ESD Safe Hand Grips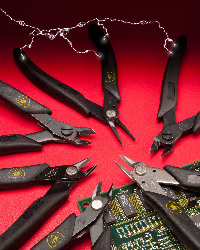 The 635 Shear Rise Cutter combines a full flush, shear cut and a 0.035" stand off in one cut. It's ideal for manufactures who need both a stand off and a full flush cut.

Glare eliminating black finish, ultra light weight and ergonomically shaped,non-slip Xuro-Rubber? grips ensure operator comfort.

Appropriate for use on soft wire up to 20 AWG (0.8mm).
Type of Tool:

Anti-Static
Shear Rise Cutter
Cutter

Project type:

Special Features:

Wire size:

Material(s):

Wire
Electronic Lead Wire
Copper Wire

Remember that you can use our Rover Tool Finder to search for products by different criteria!