2275AS-Cable Tie Cutter with ESD Safe Hand Grips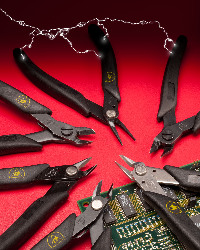 The first Micro-Shear® flush cutter with cutting access along the entire length of its blades, offering an unrestricted cutting surface.

Quickly and cleanly cuts cable ties, wire and soft plastics leaving no pinch or spike. Will also cut soft wire up to 12 AWG (2mm) and cable ties up to 1/4 inch (7mm)wide.
Type of Tool:

Project type:

Wire Harness Manufacturing
Telecommunications
Electronics
Electrical

Special Features:

Wire size:

30
29
28
27
26
25
24
23
22
21
20
19
18
17
16
15
14
13
12

Material(s):

Wire
Wire & Cable
Rubber Sealing (automotive)
Plastic Cable Ties
Electrial Wire
Cord Sets
Copper Wire

Remember that you can use our Rover Tool Finder to search for products by different criteria!