TK 2900 -Wire Art Tool Kit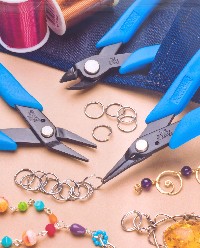 Contains the three basic tools for any wire artist, our Model 2175SH Maxi-Shear? Flush Cutter for cutting soft wire up to 12 AWG (2mm), Model 485FN Flat Nose Plier and Model 450 Chain/Tweezer Nose? Plier.

Tools are packaged in a sturdy canvas pouch with two additional open spaces that can hold tweezers or markers.
Type of Tool:

Project type:

Wire Weaving
Jewelry Manufacturing
General Hobbies And Crafts
Chainmaille
Bead Stringing

Special Features:

Wire size:

Material(s):
Remember that you can use our Rover Tool Finder to search for products by different criteria!