TK 2700-Cutters Tool Kit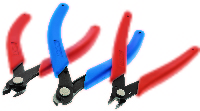 This kit includes three essential Xuron® flush cutters.

The model #410 Micro-Shear® Flush Cutter- for cutting up to an 18ga soft wire as well as flexible stranded wire, model #2175 Maxi-Shear™ Flush Cutter- for cutting soft up to a 12ga, and the model #2193 Hard Wire Cutter – for cutting hard wire and memoryw wire.

This kit provides cutters for all applications and is a great starter kit. Tools come packaged in a sturdy canvas pouch that keeps them protected and clean when not in use. Pouch has two additional open spaces that can be used to store tweezers, pens, or an awl.
Type of Tool:

Project type:

Wire Weaving
Robotics
General Hobbies And Crafts
Electronics
Chainmaille
Bead Stringing

Special Features:

Wire size:

30
29
28
27
26
25
24
23
22
21
20
19
18
17
16
15
14
13
12

Material(s):

Wire
Stainless Steel Wire
Silver Wire
Plastic Cable Ties
Picture Framing Wire
Piano Wire
Nichrome Wire
Music Wire
Memory Wire
Gold Wire
Floral Wire
Flexible Stranded Bead
Electronic Lead Wire
Craft Wire
Copper Wire
Bicycle Cable
Bead Wire
Annealed Wire
Remember that you can use our Rover Tool Finder to search for products by different criteria!