TK 2100 -Modeler's Tool Kit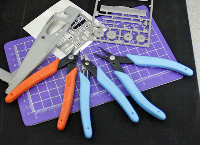 This kit contains three tools that will become indispensible to any modeler.

The kit contains our Model 410T High Precision Shear (Sprue Cutter), Model 450 TweezerNose™ Plier and Model 440 High Precision Scissor all in a durable, protective tri-fold pouch. Two additional narrow pockets in the pouch are ideal for holding tweezers or a ruler. Tools are kept protected, clean and organized.
Type of Tool:

Project type:

Plastic Kit Modeling
General Hobbies And Crafts

Special Features:

Wire size:

Material(s):
Remember that you can use our Rover Tool Finder to search for products by different criteria!