TK 3300 -Radio Control Model Aviation Tool Kit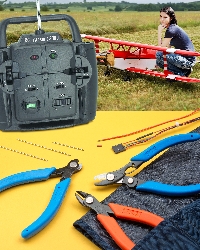 This kit, designed especially for radio control aviation modelers, contains three handy tools for building and maintaining radio control airplanes, helicopters as well as any other flying models.

The kit includes our Model 2175 Maxi-Shear™ Flush Cutter for cutting control wires and soft materials up to 12 AWG (2mm), the Model 2193 Hard Wire Cutter for control rods and hard wire up to 1mm, and the Model 501 Adjustable Wire Stripper for cutting and stripper wire sizes 10-26 AWG (2.6-.40mm).

Tools are ergonomically designed for proper leverage and operator comfort and are packaged in a durable canvas tri-fold pouch. Pouch contains extra pockets which can be used to hold a screw driver or tweezers.
Type of Tool:

Project type:

General Hobbies And Crafts

Special Features:

Wire size:

30
29
28
27
26
25
24
23
22
21
20
19
18
17
16
15
14
13
12

Material(s):

Radio Control Throttle Cable
Music Wire
Electronic Lead Wire
Copper Wire
Annealed Wire
Remember that you can use our Rover Tool Finder to search for products by different criteria!