450BNAS-Bent Nose Plier with ESD Safe Hand Grips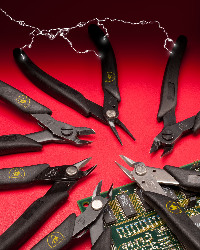 Strong and precise plier blades angled to 45 degrees for improved sight lines when working in tight areas or with small parts. Plier tips are perfectly aligned and cabable of picking up a human hair or forming and holdign wire.
Type of Tool:

Tweezer Nose Plier
Anti-Static

Project type:

Special Features:

Wire size:

Material(s):

Remember that you can use our Rover Tool Finder to search for products by different criteria!