TK 2300 -Wire Technician Tool Kit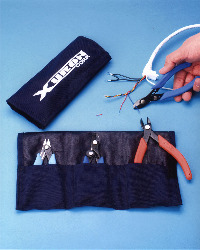 A tool kit designed specifically for wire harness and wire processing applications, it includes a Model 501 Adjustable Wire Stripper/Cutter, Model 2175 Maxi-Shear™ Flush Cutter and Model 440 Mini-Shear for cutting or slitting the jacketing on cables.

The pouch holds each tool in individual pockets keeping them clean and protected. Two smaller pockets are available for scribes, scalers or a staight edge.
Type of Tool:

Project type:

Wire Harness Manufacturing
Telecommunications
Electronics
Electrical

Special Features:

Wire size:

Material(s):

Remember that you can use our Rover Tool Finder to search for products by different criteria!