TK 2100 -Field Service Tool Kit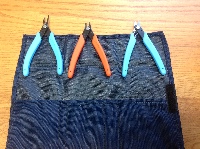 A handy kit containing three precision tools capable of tackling a variety of field service operations.

The tri-fold pouch includes a Model 410T Micro-Shear® Flush Cutter with a refined tip for access into restricted areas; Model 440 Mini-Scissor for slitting cable jacketing; and the Model 450 TweezerNose pliers for tightening pins, forming connectors or holding wires.

The pouch holds each tool in individual pockets for their protection. Two smaller pockets are available for rulers, scribes or scalers.
Type of Tool:

Project type:

Wire Harness Manufacturing
Telecommunications
Electronics

Special Features:

Wire size:

Material(s):

Wire
Wire & Cable
Plastic Sprue
Plastic Cable Ties
Plastic (de-gating)
Electronic Lead Wire
Electrial Wire
Cord Sets
Copper Wire
Annealed Wire

Remember that you can use our Rover Tool Finder to search for products by different criteria!