TK 4001-Maintenance & Repair Tool Kit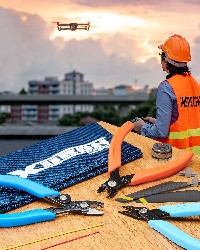 A handy, compact tool kit designed especially for maintenance & repair personnel.

The kit contains a wire cutter, wire stripper and pliers:

Model 2175 Maxi-Shear™ Flush Cutter for cutting soft wire up to 12 AWG (2 mm)

Model 501 Adjustable Wire Stripper for stripping and cutting soft wire from 10-26 AWG (2.59 - .405 mm)

Model 485 Long Nose Pliers for holding, bending and manipulating wire

All tools are manufactured from heat-treated high carbon steel, have cushioned hand grips and built-in return springs.

Type of Tool:

Project type:

Wire Harness Manufacturing
Robotics
Electronics
Electrical

Special Features:

Wire size:

Material(s):

Wire
Wire & Cable
Copper Wire

Remember that you can use our Rover Tool Finder to search for products by different criteria!