TK 3500 -HOME ELECTRONICS TOOL KIT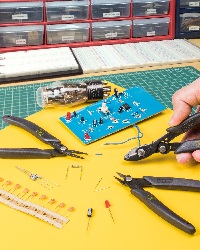 Especially designed for home electronics projects such as ham radio kit building and robotics.

The kit contains three tools, all with ESD-safe hand grips for componet protection agains static discharge.

Tools in kit include the Model 170-IIAS Micro-Shear® Flush Cutter for cutting soft wire up to 18 AWG (1.02mm), Model 450AS Tweezer-Nose Plier and the Model 501AS Adjustable Wire Stripper for stripping and cutting 10-26 AWG (2.58-0.404mm) stranded and solid wire.

Type of Tool:

Project type:

Special Features:

Wire size:

Material(s):

Wire
Electronic Lead Wire
Copper Wire
Annealed Wire

Remember that you can use our Rover Tool Finder to search for products by different criteria!