Shears (or Micro-Shear® Flush Cutters)
9200 -Tapered Head Micro-Shear® Flush Cutter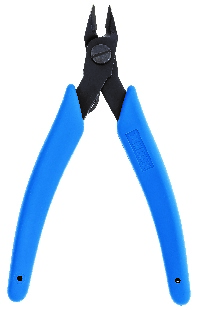 The newest generation Micro-Shear® Flush Cutter. Tough alloyed steel, state of the art heat treating and ultra-precise CNC grinding combine to create the ultimate shear cutter. The advanced ergonomic design, coupled with our exclusive Xuro-Rubber™ grips, Light Touch™ return spring and glare eliminating black finish ensure operator comfort, even in high volume and large capacity applications.

Tapered head design allows positioning, even on fine pitched leads.

Flush cuts soft wire up to 14 AWG (1.6mm).


Type of Tool:

Project type:

Wire Harness Manufacturing
Telecommunications
Plastics De-Gating
Jewelry Manufacturing
Electronics
Electrical

Special Features:

Wire size:

30
29
28
27
26
25
24
23
22
21
20
19
18
17
16
15
14

Material(s):

Wire & Cable
Wire
Plastic Sprue
Plastic Cable Ties
Plastic (de-gating)
Electronic Lead Wire
Electrial Wire
Cord Sets
Copper Wire
Bead Wire
Annealed Wire

Remember that you can use our Rover Tool Finder to search for products by different criteria!