Shears (or Micro-Shear® Flush Cutters)
590LP -Low Profile Micro-Pneumatic™ Flush Cutter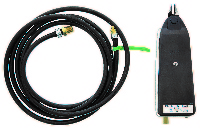 Designed specifically for manufacturing environments where ergonomics and productivity are of prime importance.

The Model 590LP's relieved head and slim profile allows superior access in high density areas.

Sized to fit comfortably in the operators hand, the Model 590LP Micro-Pneumatic™ Lead Cutter is light weight, ultra quiet and fast acting.

Requires only 50 p.s.i. air pressure. Flush cuts soft wire up to 20 AWG (0.8mm)

Unit includes a 6 foot (1.83 meter) air supply line with a 1/8" NPT termination.

Type of Tool:

Project type:

Wire Harness Manufacturing
Plastics De-Gating
Jewelry Manufacturing
Electronics

Special Features:

Wire size:

Material(s):

Wire
Silver Wire
Plastic Sprue
Plastic Cable Ties
Plastic (de-gating)
Gold Wire
Electronic Lead Wire
Copper Wire
Annealed Wire

Remember that you can use our Rover Tool Finder to search for products by different criteria!