Shears (or Micro-Shear® Flush Cutters)
9100AS-Oval Head Micro-Shear® Flush Cutter with ESD Safe Hand Grips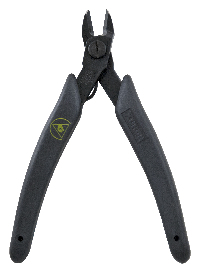 The newest generation Micro-Shear® Flush Cutter. Tough alloyed steel, state of the art heat treating and ultra-precise CNC grinding combine to create the ultimate shear cutter.

The advanced ergonomic design, coupled with our exclusive Xuro-Rubber™ grips, Light Touch™ return spring and glare eliminating black finish ensure operator comfort, even in high volume and large capacity applications.

Flush cuts soft wire up to 12 AWG (2mm).

ESD-safe hand grips conform to ANSI/ESD.S20.20 and DOD-HDK-263 and have a surface resistivity of 1x10(6)-1x10(9).


Type of Tool:

Project type:

Wire Harness Manufacturing
Telecommunications
Electronics
Electrical

Special Features:

Wire size:

30
29
28
27
26
25
24
23
22
21
20
19
18
17
16
15
14
13
12

Material(s):

Wire
Wire & Cable
Electronic Lead Wire
Electrial Wire
Cord Sets
Copper Wire
Annealed Wire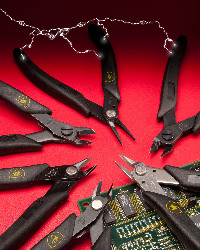 Remember that you can use our Rover Tool Finder to search for products by different criteria!