BEAD STRINGER'S TOOL KIT - OFFERING THREE ESSENTIAL TOOLS
November 12, 2018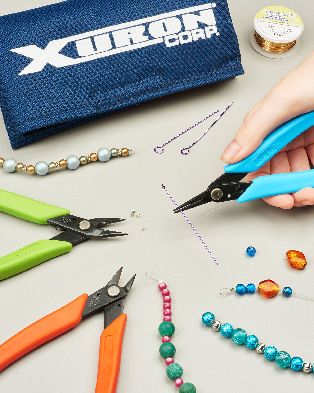 Xuron® TK2600 Bead Stringer's Tool Kit
A new kit especially designed for bead stringers that comes in a handy pouch and includes three tools for cutting, crimping, forming and handling bead wire and findings has been introduced by Xuron Corporation of Saco, Maine USA.
The Xuron® Bead Stringer's Tool Kit includes three ergonomic hand tools that are each designed to perform the most common tasks required by bead stringers and come in a handy tri-fold protective canvas storage pouch. Featuring comfortable Xuro-Rubber™ cushion grips and Light-Touch™ return springs, they are made from high carbon steel for strength and durability, have a slim working profile, and a black finish that is easy on the eyes.
Made in the U.S.A.
Available at local bead and jewelry supply shops.