SCALE MODELER TOOL KIT INCLUDES THREE ESSENTIAL TOOLS
August 27, 2018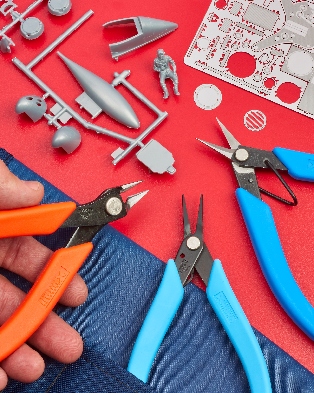 XURON® TK 3200 Pro Modeler Tool Kit
SCALE MODELER TOOK KIT
INCLUDES THREE ESSENTIAL TOOLS
A handy tool kit that was especially developed for advanced plastic scale modelers to let them cut sprues cleanly, hold and place tiny parts, and cut photo-etched metal parts has been introduced by Xuron Corporation of Saco, Maine.
The Xuron® Model TK3200 Pro-Modelers Tool kit is ideally suited for advanced scale model builders who need to precisely cut and manipulate delicate plastic parts and thin photo-etched metal pieces. Featuring a handy canvas storage pouch with individual pockets for each tool, the kit includes a Model 2175ET Sprue Cutter, Model 9180ET Scissors for photo-etch cutting without deforming, and Model 450 TweezerNose™ Pliers for forming, holding and inserting parts.
Eliminating razor blades and knives, the Xuron® Pro-Modelers Tool Kit's Model 9180ET Scissors has ultra-sharp tips, 2175ET has low profile, Micro-Shear® Flush Cutting jaws, and the TweezerNose™ Pliers can pick up a human hair. These ergonomic tools are made of high carbon steel with a non-glare finish, Light-Touch™ return springs, and Xuro-Rubber™ soft cushioned grips.
Made in the U.S.A.