If you work with wire processing, electronics, telecommunications, or 3D printing, the Xuron® 440 mini scissors will be a useful and versatile addition to your toolbox. With its precision blades and tough construction, the Xuron® 440 easily cuts through tough materials like lacing tape, cable jacketing, mesh insulation, non-aramid fibers and soft metals up to 0.005″ thick.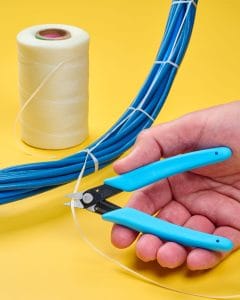 Xuron Corp manufactures two versions of the 440 mini scissors, the 440AS with ESD safe grips, important for static-free work environments, and the standard 440.
The 440 Mini-Scissors has become a favorite among electric wire and cable processors because they cut clean, instead of leaving messy, frayed ends. Our unique manufacturing process ensures that each pair of scissors is perfectly balanced, making them a pleasure to use. Let's get into specifics:
The Xuron® 440's ergonomic design makes these mini-scissors easy and safe to use
Ergonomics is the study of how people work. It helps people to use tools in a way that is comfortable for their bodies. In an industrial setting, this means that small tools can be used in a way that does not cause pain or injuries.
The Xuron® 440 uses a low profile return spring instead of awkward finger loops, which always returns the mini-scissors to the open position after cutting. Grips are cushioned with soft rubber for increased comfort. Its comfort, ease-of-use, and even its size enhances precision cutting. This design is especially advantageous for users with arthritic hands, and it accommodates both left and right-handed use. Due to its compact size, the handles of the 440 provide similar leverage to that found in pliers.
Xuron's unique manufacturing process ensures that each pair of scissors is perfectly balanced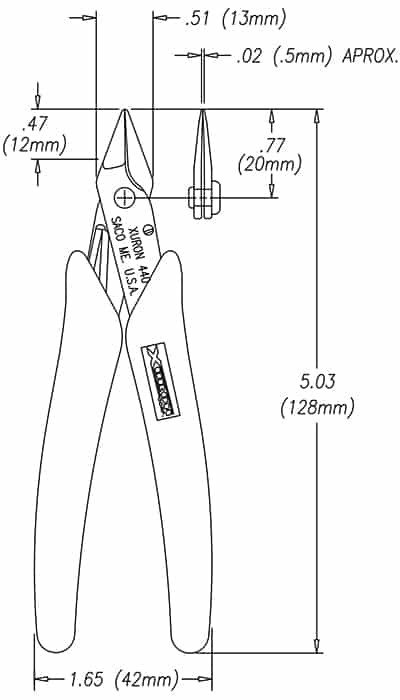 You know that having the right tools is essential to producing quality work. That's why Xuron Corporation offers such a wide range of precision scissors and cutters – each designed with a specific task in mind. The 440 mini-scissors is an ultra-precise scissors that cuts fine or delicate items, as well as tough non-aramid fibers with a clean, square edge. Only a perfectly-balanced scissors will perform with such precision.
How tough are the Xuron® 440 Mini-Scissors blades?
The blades of the Xuron® 440 Mini-Scissors have a Rockwell Hardness of 55-57Rc, making them ideal for cutting through a variety of materials. It produces a clean, square cut on plastic and soft sheet metals up to 0.005″ (0.1mm).
What applications are the 440 Mini-Scissors best suited for?
Sharp, precise blades easily cut non-aramid threads, as well as lacing tape used to bundle wire and cables. They are also useful for cutting support structures off of 3D prints and trimming photo-etch parts. Versatile, compact, and easy-to-use, you'll find yourself reaching for them for a variety of applications.
The Xuron® 440 Mini-Scisssor is available as a stand-alone product and also included in the following tool kits:
☑️ TK 2100 Field Service Tool Kit – Its tri-fold pouch includes a Model 410T Micro-Shear® Flush Cutter with a refined tip for access into restricted areas; Model 440 Mini-Scissors for slitting cable jacketing; and the Model 450 TweezerNose™ pliers for tightening pins, forming connectors or holding wires. The pouch holds each tool in individual pockets for their protection. Two smaller pockets are available for rulers, scribes or scalers.
☑️ TK 2300 Wire Technician Tool Kit – A tool kit designed specifically for wire harness and wire processing applications, it includes a Model 501 Adjustable Wire Stripper/Cutter, Model 2175 Maxi-Shear™ Flush Cutter and Model 440 Mini-Scissors for cutting or slitting the jacketing on cables, all in a handy tri-fold pouch.
For a listing of Authorized Distributors or a local Manufacturer's Reprsentative, please contact, sales@xuron.com.
Xuron® Industrial Tool News Subscribers Always Win!
Subscribers receive a periodic newsletter with tips and news about Xuron® tools AND automatic entry into subscriber-only giveaways. Have you subscribed?