I'll bet that when you think of Xuron® tools, a few well-known and well-used tools come to mind. Today let's expand your view of what's available and hone in on a couple possibly lesser known tools to help you bend and form wire, photo-etch, and a variety of materials. These pliers, and all Xuron® tools are available through local hobby shops.
Xuron® Model 485FN Flat Nose Pliers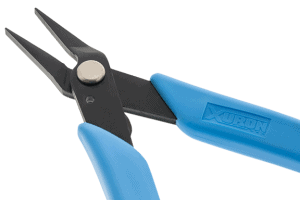 Lightweight and easy to hold, yet strong, the Xuron® Model 485FN Flat Nose Pliers is perfect for model building. It's fairly small – only 5.5 inches in length and although the widest jaws of our pliers line, sports a thin profile. This model is a flat (duck bill) version of the #485 Long Nose Pliers.
Use this pliers to grasp, hold, flatten, bend and form wire, photo-etch, and other lightweight materials. Its long, flat, square blades provide extra surface area for added control and maneuverability. As with all Xuron® brand pliers, the model 485FN offers ergonomically shaped grips and a return spring for comfort and control while working. You'll find it's easy on your wrists and hands.
Xuron® Model 575 Micro-Forming Pliers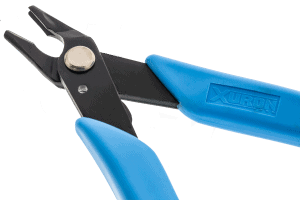 This pliers was initially designed for model railroaders; we later discovered it had a much broader application. In a nutshell, if you need a perfect 90 degree bend for your grab irons or photo-etch, you'll quickly see the benefit of the Model 575 Micro-Forming Pliers.
Simply position the "V" of this pliers where you want the material to bend, and squeeze. If you want a less pronounced bend, don't squeeze as hard.
Its unique forming blades easily shape wire and light gauge strips of brass and aluminum. And back to its original purpose – it's ideal for adjusting trip pins on N, HO and O sized couplers.
As with the 485FN, this pliers features our ergonomically designed Light-Touch™ return spring and non-slip Xuro-Rubber™ handle grips for comfort and control.
Warranty and Maintenance
Both models 485FN and 575, as well as all Xuron® tools are covered by our factory warranty. Follow the link for more information.
Xuron® tools are easy to maintain to keep them in good condition for years of use. Follow this link to learn how to replace springs (if needed) and keep your tools well-maintained.
Please let us know in the comments if you've learned something new in this post. Thanks for reading!