If you've been around the scale modeling world for awhile, you may remember when photo-etch first made its appearance in the hobby world. One of the first lines of model kits to feature photo-etch parts was the HiTech series from Monogram.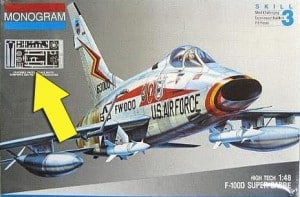 In those days, the Xuron® 440 PET Shear was all you needed to remove and trim PE parts. I used my 440 PET for years and during that time both the detail level in model kits and that of the photo-etch evolved. The 440 PET was a good tool, but there was also a need for something to keep pace with the advanced products photo-etch manufacturers were producing.
In those early days you might get a dozen or so parts on a fret of photo-etch. Today it could be a hundred or more. I wanted a tool that could handle the challenge of removing these ever-so-delicate PE parts from the fret, as well as the capacity to trim PE parts when necessary without inflicting any damage. So I teamed up with Xuron Corp. to come up with the 9180ET Professional Photo-Etch Scissor.
Its long, sharp jaw allows you to remove small, delicate parts cleanly, without bending or twisting them. The precision design allows cutting along the full length of the scissors jaw. You can literally trim a hair's width off a piece of PE without damaging the part you are trimming. This is something that continues to amaze everyone who sees our demonstration at modeling events across the country.
This level of performance is what I, as a modeler, demanded and the 9180ET delivers. Combine a great tool with solid techniques and you'll be able to master the removal and trimming of photo-etch parts, the first step of using PE in your scale modeling project.
Speaking of technique, we see so many who remove PE parts with difficulty, trying to cut the PE parts from the fret in the same manner as you would cut plastic parts off the sprue. This will bend your photo-etch. Don't cut from the top down, but keep the cutting surface closer to parallel with the photo-etch, as if you were cutting a piece of paper or a decal from a decal sheet with a scissor.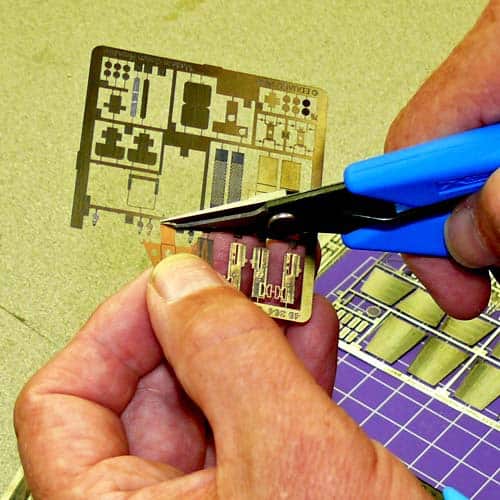 To make working with PE easy, Xuron has released the TK3600 Professional Photo-Etch Tool Kit. It includes the #9180ET Pro PE Scissor, #450 Tweezernose™ Plier and our latest addition, the #575 Micro Bending Plier, which will give you a perfect 90° bend in your small photo-etch parts. Ask for it today at your favorite hobby retailer.