In an industry where precision, reliability, and efficiency are paramount, having the right tools can make a significant difference. Xuron® Micro-Shear® flush cutters are a powerhouse that marries convenience and functionality to deliver unparalleled performance. These ergonomic hand tools are offered in over 100 models designed for special tasks ranging from cutting hard and soft wire to electronic leads, slippery aramid fibers, slitting PVC jacketing, and many other factory and field-proven applications.
This blog post aims to shed light on the key features and benefits of our Micro-Shear® flush cutters, focusing specifically on the Xuron® 2175, 2175ET, 2275, LX, 2193,9200LH, and 9250ET models.
What Sets Xuron® Micro-Shear® Flush Cutters Apart?
Xuron® is a trusted name in the industry, known for its commitment to quality and innovation. Our Micro-Shear® flush cutters are no exception. They are designed with unique features that cater to the specific needs of industrial users.
1. Micro-Shear® Cutting Action: Unlike conventional wire cutters that use a compressive force, Micro-Shear® flush cutters employ a bypass shearing action that produces clean, square cuts with no spikes and about half the effort of conventional wire cutters.

2. Comfortable Grip: Ergonomically designed grips provide comfort, reducing hand fatigue during prolonged use.
3. Precision Cutting: These cutters are perfect for cutting a range of materials with precision and ease.
4. Durability: Made from high-carbon steel, Xuron® cutters are built to last, offering long-term value for industrial users.
5. All Xuron® tools are Made in the USA.
A Closer Look at the Models
Xuron® 2175 & 2175ET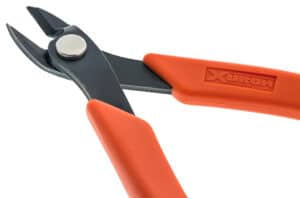 The Model 2175 Maxi-Shear™ Flush Cutter is known for its versatility, robustness, and value. It's tough enough for wire harness and cable cutting, and offers the precision to cut material less than 1 mil. thick or work in high-density areas. Lightweight and not bulky, take it with you wherever you go.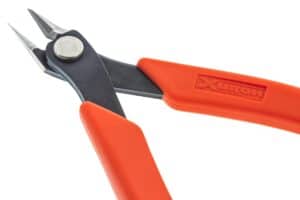 While the Model 2175 is ideal for general-purpose cutting, the Model 2175ET Extra Tapered, Low Profile Micro-Shear® Flush Cutter was explicitly designed to cut thin, soft plastic and small, soft wire (22 AWG / 0.64 mm). It's based on the same blank as its parent 2175 but with the outside edges ground to an extra tapered head. Long, low-profile cutting blades easily reach confined spaces, making it especially useful for micro-electronics and plastic degating applications.
Both models have an overall length of 5.80 inches/148mm and a Rockwell Hardness of 54-56 Rc.

Xuron® 2275 Cable Tie Cutter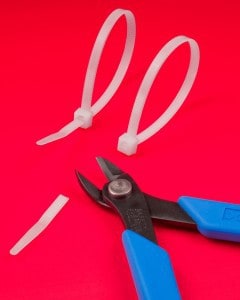 Xuron Corporation's Model 2275 Cable Tie Cutter offers an effective and safe solution for cutting plastic and nylon cable ties up to 7 mm wide. It leaves a nice flat cut on the cable tie with less effort than simple wire cutters and without risking hand strain or injury from repetitive use.


Xuron® LX Micro-Shear® Flush Cutter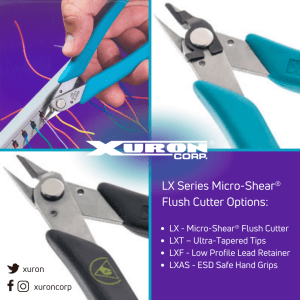 These cutters look different from the rest. Polished to a bright, non-glare finish, they look as if they're made from stainless steel. But in reality, for durability and strength, they're made from .100" thick highly polished carbon steel. The Model LX cuts soft wire up to 16 AWG (1.3 mm), perfect for most electronics manufacturing, as well as small wire and cable work.


Xuron® 2193 Hard Wire Cutter
This large, full bypass shear is designed specifically for cutting music wire and other types of hardened wire. The cutting blades of the Model 2193 fully bypass, causing it to break the wire rather than squeeze it. Its shearing cut combined with high mechanical advantage makes cutting iron, hardened and tempered steel wire up to 0.40" (1mm) and soft wire up to 12 AWG (2mm) seem effortless. Tip: for best results, support both ends of the wire with your fingers while cutting.

Xuron® 9200LH Tapered Head Micro-Shear® Flush Cutter with Long Handles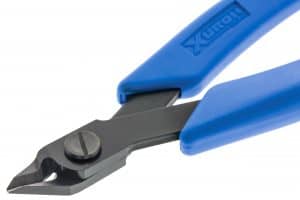 The Model 9200LH features a tapered head and long handles. This precision wire cutter is useful for a wide variety of applications from trimming component lead wires to copper wire to telecommunications cables. It has a cutting capacity of up to 14 AWG (1.6 mm) soft wire.


Xuron® 9250ET (Extra Tapered) Micro-Shear® Flush Cutter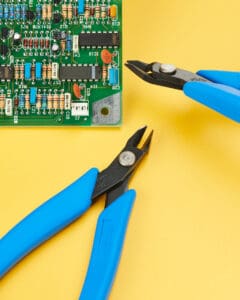 This cutter features a subminiature (Extra Tapered) head sized for access into extremely restricted areas. It is ideal for ultra-high-density circuit boards and SMTs. The Model 9250ET's design offers strength with the superior durability of all 9000 Series shears. Cuts from less than one mil. up to 18 AWG (1.02 mm).
In this article, we've explored the outstanding craftsmanship and innovative features of various Xuron® Micro-Shear® flush cutter models, each designed to meet the diverse needs of industry professionals. From the unique Micro-Shear® cutting action to the comfortable grip, precision cutting, and durability, these tools are the epitome of industry-grade quality and reliability. Don't miss out on the opportunity to increase your productivity and efficiency with Xuron® tools.
Sign up now for Xuron® Industrial Tools News using the form below and tell us what you're cutting for a chance to win one of these powerful tools. We'll randomly draw the winner's name from our subscriber list on Monday, October 16, 2023, and will notify the winner shortly thereafter. Enhance your work with Xuron® – where precision meets performance!
For a list of Authorized Distributors or a local Manufacturer's Representative, please contact sales@xuron.com.
Subscribers Always Win!