Cable Ties, also known as tie wraps or zip ties, are commonly used in the industrial sector for bundling wire, cable and cords to keep them neat and organized. Consumers also regularly use them to secure totes, luggage and retail items. Their strength makes them appealing, but when cut without the right tool, it's easy to cut or scratch yourself with a sharp edge. Our Cable Tie Cutter makes the task easier and safer.
Cable ties should always be cut flush to the termination point, leaving no spike on the cut end. This is especially important in a manufacturing environment. The spike is what could cause scratches or cuts to people doing wire and cable work.
Xuron Corporation's Model 2275 Cable Tie Cutter offers an effective and safe solution for cutting plastic and nylon cable ties up to 7 mm wide.  And, it leaves a nice flat cut on the cable tie.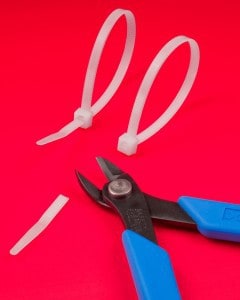 Enabling this tool to cut so cleanly is Xuron Corporation's Micro-Shear® blade bypass method of cutting.  Rather than two opposing sharp edges meeting perfectly (compression cutting), our tools are designed to cut by shearing.  One blade bypasses the other for a smoother finish.
The Model 2275 cuts cable ties with less effort than simple wire cutters. Its ergonomic design provides leverage to easily shear zip ties without hand strain or injury.
For more information, or assistance locating an Authorized Distributor, please contact us at sales@xuron.com