Xuron Corporation's Micro-Shear® Flush Cutters are categorized by Series – each having their own unique features and benefits. Here, we will introduce you to our LX Series Micro-Shear® Flush Cutters and identify how they differentiate from our other cutters.
In the family of Xuron® Cutters, I'd have to say the LX Series is our middle child; not getting the attention the newer cutters get and sometimes being overshadowed by the more mature cutters. Let's give these great Cutters the attention they deserve!
Three main features set the LX Series Cutters apart from the rest
☑️ They look different. The blades are polished for a bright, non-glare finish. We're frequently asked if they are stainless steel. The answer is no, they are carbon steel that has been polished.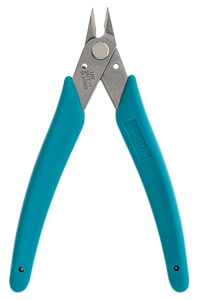 ☑️ They are made from steel that is 0.100" (2.5 mm) thick. Both our 9000 Series and 2175 Series Cutter blades are .110" (3 mm) thick and our 410 and 170-II Series Cutter blades are .080" (2.14 mm) thick. What is the benefit? Durability. It allows this tool to cut soft wire up to 16 AWG (1.3 mm) and smaller. This is an appropriate range for most electronics manufacturing as well as small wire and cable work.

☑️ They are heat treated to a Rockwell hardness of 55-57C, which is purposely specified in this range to provide strength, durability, and flexibility.
LX Series Micro-Shear® Flush Cutters are available with the following options
🔵 Ultra-tapered Tips
Model LXT – Tips are ultra-tapered for access into restricted spaces
🔵 Low Profile Lead Retainer
Model LXF – Fitted with Xuron's low profile lead retainer which prevents wire from flying and causing damage to delicate components. Also helps keep the work bench cleaner
🔵 ESD Safe Hand Grips
Model LXAS – Grips have a surface resistivity of 1×10(6) – 1×10(9) and conform to ANSI/ESD.S20.20 and DOD-HDK-263
Remember to work safe – always wear OSHA approved eye protection when using Xuron® brand, or any other hand tools.
These, and all XURON® brand products, are available worldwide through our network of Authorized Distributors. Please contact us if you would like to receive a list of our Distributors in your area.
Additional Resources:
What's the difference between a Micro-Shear® flush cutter and a conventional wire cutter?