3D PRINTING HAND TOOLS CUT FILAMENT FLAT & REMOVE SUPPORTS
February 25, 2021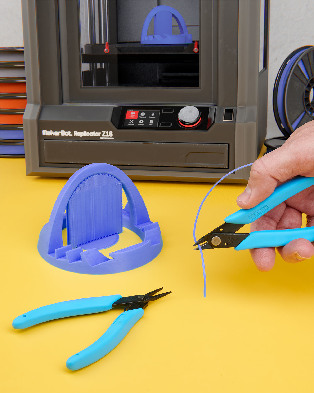 XURON® Model 170-II Micro-Shear® Flush Cutter cuts 3D filament cleanly and Model 450 TweezerNose™ Pliers remove supports
Two hand tools that have been paired for fused filament fabrication style 3D printers to prepare the filament for feeding and for removing post-printing supports are being introduced by Xuron Corp. of Saco, Maine.
Xuron ® 3D Printer Hand Tools feature the Model 170-II Micro-Shear® Flush Cutter which produces a clean, square cut using shear action for trimming filament and cleaning up printed parts, and the Model 450 Tweezer-Nose™ Pliers which has precise tips capable of holding a human hair.
Ergonomically designed, Xuron® 3D Printer Hand Tools have contoured, non-slip soft rubber grips and a Light Touch™ return spring. Made from alloyed steel and hardened for high reliability and long life, these tools have a glare-eliminating black finish that is easy on the eyes.
Xuron® 3D Printer Hand Tools are made in the USA and available through Authorized Xuron® Distributors.