CABLE TIE CUTTER LEAVES SMOOTH ENDS WITHOUT SPIKES
August 19, 2020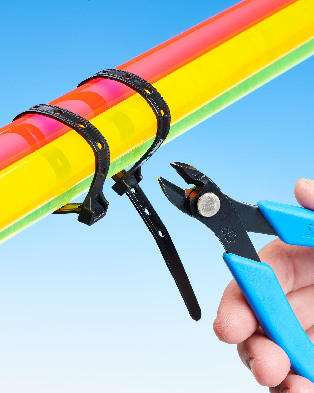 XURON® Model 2275 Cable Tie Cutter leaves flush, smooth ends
An ergonomic cutter especially designed for cutting cable ties and leaving smooth, flat ends without spikes, to prevent people from being scratched, is available from Xuron Corporation of Saco, Maine USA.
The Xuron® Model 2275 Cable Tie Cutter features Micro-Shear® blade bypass cutting technology that cuts cable ties square rather than pinching and leaving spikes which can scratch people. Designed for rapidly cutting cable ties, regardless of their application, this tool provides a full cutting capacity along the entire length of their blades.
Ergonomically designed with the proper cutting leverage, the Xuron® Model 2275 Cable Tie Cutter has soft rubber hand grips that are comfortable to hold in either hand, a Light-Touch™ return spring, an no awkward finger loops. Originally developed for the cabling harness industry, it is ideally suited for attaching signs and shades, securing tote boxes and many other uses.
The Xuron® Model 2275 Cable Tie Cutter is made in the USA and available through Authorized Distributors.