SERRATED EDGE SCISSORS CUTS ARAMID FIBER INSULATION
July 17, 2020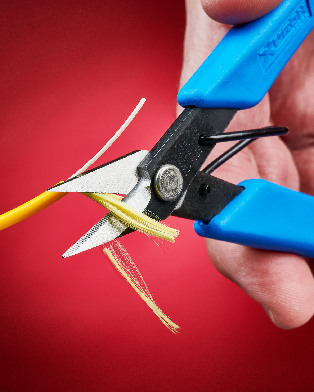 Xuron® Model 9180 Aramid Fiber Scissors cleanly cut the Kevlar® fiber component of a fiber optic cable
An ergonomic scissors that is especially designed for cutting Kevlar® and other aramid fiber that typically slip out of the grasp of conventional scissor blades has been introduced by Xuron Corporation of Saco, Maine USA.
Xuron® Model 9180 Kevlar® Shears are designed with tapered cutting blades that have one serrated edge for gripping slippery aramid fibers and a proprietary sharpened edge for cutting them. Ideal for cutting Kevlar® cable insulation, these scissors are comfortable to hold in either hand, have soft rubber hand grips, a return spring and no cumbersome finger loops.
Fast and easy to use in assembly and field service operation, Xuron® Model 9180 Kevlar® Shears' tapered cutting blades can be used to cut small fiber optic jacketing as well as the aramid fiber insulation. Manufactured from tough alloyed steel, the cutting blades are heat treated to Rc 58-60 to provide exceptional cutting and long service life.
The Xuron® Model 9180 Kevlar® Shears are available through Authorized Xuron Distributors worldwide and are made in the USA.