BEAD STRINGER'S TOOL KIT FEATURES THREE ESSENTIAL TOOLS
May 29, 2020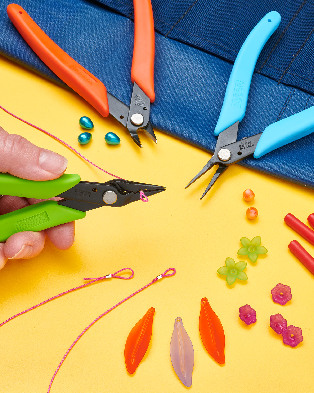 Xuron® Bead Stringer's Tool Kit features Bead Crimping Pliers, Micro-Shear® Flush Cutter and TweezerNose™ Pliers
A handy kit that includes three essential tools for cutting, crimping, holding, and forming bead wire and craft wire that comes in a protective storage pouch has been introduced by Xuron Corporation of Saco, Maine USA.

The XURON® TK 2600 Bead Stringer's Tool Kit includes three ergonomic hand tools that perform the most common tasks required by beaders and comes in a handy protective canvas pouch. Featured is the Model 494 4-in-1 crimping pliers for securing 1, 2 and 3 mm crimp tubes which includes a chain nose plier, a Model 410 Micro-Shear® Flush Cutter for soft wire up to 18 AWG (1 mm) plus flexible stranded bead wire, and the Model 450 TweezerNose™ Pliers for grasping, bending and forming wire.
Designed to last for many years, the tools in this XURON® TK 2600 Bead Stringer's Tool Kit are made from high carbon, heat treated steel for strength and durability and have a flat black finish that is easy on the eyes. Each tool has a slim working profile and is equipped with comfortable, soft Xuro-Rubber™ cushioned grips and a Light-Touch™ return spring.
Available through local bead shops and authorized on-line retailers.
Made in the USA.