MICRO-SHEAR® FLUSH CUTTERS FEATURE NARROW CUTTER HEAD IN FOUR MODELS
January 16, 2020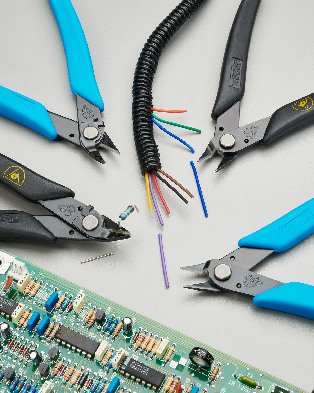 XURON® 170-II Series Micro-Shear Flush Cutters in four configurations
A line of precision flush cutters, offered with plain and ESD safe hand grips, that incorporate the company's proprietary Micro-Shear® flush cutting design for a clean square cut has been re-introduced by Xuron Corporation of Saco, Maine USA.
The Xuron® Model 170-II Micro-Shear® Flush Cutter is sized and shaped to fit comfortably in the hand for use in printed circuit board and cable harness assembly and repair. Featuring an ultra-slim profile head for reaching into high density areas, it also comes in a Model 170-IIF with a wire retaining clip and in both standard and wire retaining configurations with ESD safe grips.
Manufactured from alloyed steel and hardened to Rc 54-56, the Model 170-II and 170-IIF (with wire retaining clip) Micro-Shear® Flush Cutters have Light-Touch™ return springs and soft (latex-free) rubber hand grips. The ESD safe models, 170-IIAS and 170-IIASF, have static dissipative grips with 10(6)-10(9) surface resistivity. All tools are easy to squeeze and control.
A full catalog is available upon request. Made in USA. www.xuron.com