COMMERCIAL DRONE MAINTENANCE & REPAIR KIT HELPS INSPECTORS KEEP THEM RUNNING PROPERLY
October 09, 2019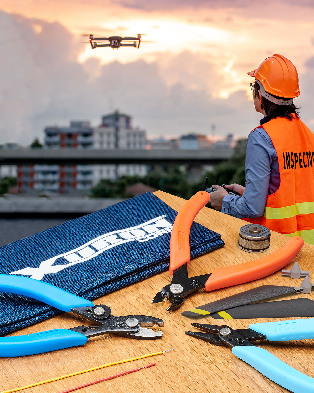 Xuron® Drone Maintenance & Repair Kit
A compact new repair kit for commercial drones that includes a wire cutter, a thumbwheel-cam adjustable wire stripper, and long nose pliers has been introduced by Xuron Corporation of Saco, Maine USA.
The XURON® Drone Maintenance & Repair Kit features three popular tools that can help inspectors keep their drones airborne and working properly with on-site electronics and mechanical repairs. Included are the Model 2175 Maxi-Shear™ Flush Cutter for soft wire up to 12 AWG (2 mm), the Model 501 Adjustable Wire Stripper for wires from 10-26 AWG (2.59-.405 mm), and Model 485 Long Nose Pliers.
Packed in a handy canvas travel pouch with pockets to protect each tool, the XURON® Drone Maintenance & Repair Kit can fit easily into a pocket or briefcase. Manufactured from heat-treated high carbon steel and blackened to prevent glare, these industrial-duty hand tools have cushioned Xuro-Rubber™ grips and a Light-Touch™ return spring.
The Model TK 4001 Drone Maintenance & Repair Kit is available though Authorized XURON Distributors worldwide.