PRECISION WIRE CUTTERS FEATURE LEAD RETAINER CLIPS
June 10, 2019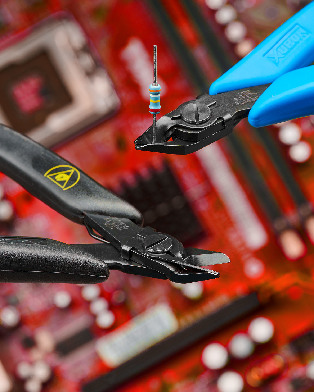 XURON® Model 9200ASF retains cut lead wires and has ESD safe hand grips
Production-duty ergonomic wire cutters that feature tapered heads with lead retainers for working on densely populated PC boards and protecting against foreign object damage have been introduced by Xuron Corporation of Saco, Maine.
The XURON® Model 9200ASF Micro-Shear® Flush Cutter is ESD safe and features a tapered head for reaching into tight spaces on densely populated PCBs and incudes a wire catcher to prevent flying lead wires. Precision made from high carbon steel and hardened to Rc 56-58, these cutters produce clean, square cuts, and have Light-Touch™ return springs and are offered with ESD-safe hand grips or plain cushioned rubber grips.
Conforming to ANSI/ESD.S20.20 and DOD-HDBK-263 specifications, the XURON® Model 9200ASF Micro-Shear® Flush Cutter exhibits 10(6) – 10(9) surface resistivity and is ideally suited for assembly and field service repair. The retaining clip engages automatically when cutting to retain cut wire leads and hey are easier to squeeze than compression-type cutters.
Made in the USA and available through Authorized Distributors.