CABLE SCISSORS SLITS PVC JACKETING & CUTS FOIL
January 14, 2019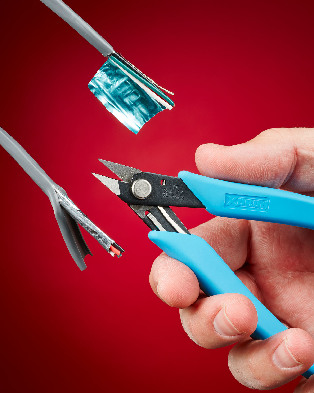 XURON® Model 440 Mini-Scissors Cuts PVC Cable Jacketing and Foil
An industrial-duty, ergonomic scissors that cuts cable jacketing, foil and non-aramid fibers and eliminates the bulky finger loops associated with conventional scissors is available from Xuron Corporation of Saco, Maine.
The XURON® 440 Mini-Scissors is an ergonomically designed specialty tool for slitting PVC jacketing and cutting foil as well as lacing tape. Featuring the mechanical leverage found in pliers, it has precise cutting tips, soft rubber handles, an internal return spring and no cumbersome finger loops.
Creating a clean cut instantly, the XURON® 440 Mini-Scissors was developed for electronics assembly and field service personnel. Producing a clean cut, it has a maximum cutting capacity of 20 AWG (0.8 mm) soft wire, plastic and soft sheet metal up to 0.005" (0.1mm).
The XURON® 440 Mini-Scissors is made in the USA and is available world-wide through Authorized Xuron Corp. Distributors.